I am not exaggerating in the slightest bit when I say that I absolutely love Christmas! I love everything about it! I love the lights, I love the cold, I love the music, I love spending time with family, I love the food. . . and now I have a new thing to love about Christmas with The Familyman's Christmas Treasury - Audio Collection by The Familyman.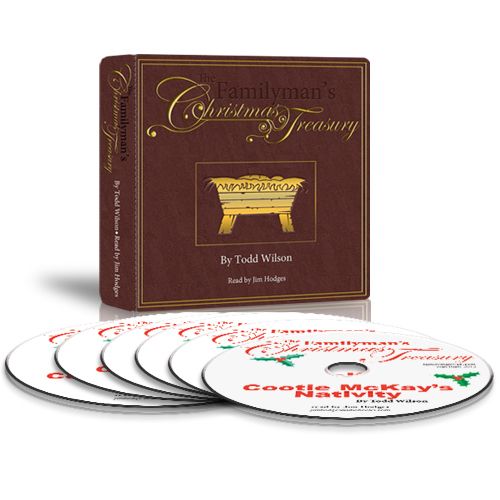 Being part of the Homeschool Review Crew has brought many different and wonderful items and curricula into my life and my homeschool. Sometimes what I have the chance to review is not something I would have been able to find on my own, and so. . .for that I am very thankful.
Familyman Ministries started with the main mission "to remind dad's of what's most important." Todd Wilson the author of "Help! I'm Married to a Homeschooling Mom and The Official Book of Homeschooling Cartoons is a dad, writer, conference speaker, and former pastor. Todd uses humor, straight talk, and sincerity as his trademark and God continues to grow his ministry through it.
The Familyman's Christmas Treasury - Audio Collection is narrated by master storyteller Jim Hodges. These stories will be a wonderful hit with your children and kids of all ages will find pleasure listening as the true meaning of Christmas is reinforced in a new way!
The Familyman's Christmas Treasury - Audio Collection comes with six (6) books that are available on CD or Digital Download
Captain Chaos and the Manger Blaster is a story about a super hero that turns out to be . . .not so super! Instead of being a super hero, he brings some pretty super chaos! This story is funny and we found ourselves giggling through it. My kids are all a little older, but they did find the story engaging and funny.
Cootie McKay's Nativity is a funny story! This is definitely one that made me laugh so much. The nativity in town needs to be replaced and that is the job left to Cootie McKay! The message that stuck out the most for me in this sweet little story was that you should never underestimate the power of God's Word!!
The Stranger was a thought provoking story about how people in a church turned away from the stranger that came to them. Then one door was opened to him for Christmas Eve. This story truly is a "when you've done it unto the least of these, you've done it unto me." moments. You truly never know when you could be entertaining angels unaware!!
Harold Grubbs and the Christmas Vest was one that touched my heart. When Harold decides to change his life and follow after God, he surprised everyone. . .absolutely everyone. God was able to touch other people because of the change that was now evident in the life of Harold Grubbs. Then every year when he wore his Christmas Vest it was a reminder of the power of God to change lives!
Gladys Remembers Christmas was a beautiful story about the importance of remember our blessings. Sometimes we forget the legacy of faithfulness and the role that God has played in our lifetime. While Gladys was cleaning out her childhood home, she finds some "treasures" that fill her life with joy once again. I love Christmas and all the memories and traditions that come with it, and this story really sparked some wonderful things in my life!
These stories were a sweet addition to our evenings and brought up great conversation about God's grace, His power to transform, salvation and what that truly means, compassion towards others, and the ability to show the love of God even to people we deem "different" or "unlovable."
You will not go wrong with The Familyman's Christmas Treasury - Audio Collection. They will make a great gift or stocking stuffer as well!!
Social Media is a great way to stay current on new and fresh things as they make their way onto the market. Take some time to follow the links below and follow The Familyman.
Facebook
Twitter
Instagram
Pinterest
Google+
Blog Link
If you would like to read a few more reviews, then click the image below!