My daughter is a senior in high school this year and only needed a few more electives so she could graduate a semester early. We were looking far and wide for just the right fit for her and then we had the opportunity to review the Online Christian Filmmakers Academy by Family Gravity Media, a division of Families for Christ Ministries, Inc.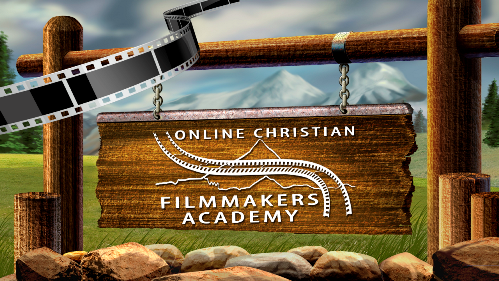 Online Christian Filmmakers Academy is done with absolute excellence! My daughter found the course to be completely enjoyable and very interesting.
I took some time to interview my daughter "informally" to see how she enjoyed the class. This is what she had to say about it. "
I found that everything was explained very well. It was easy to understand the instructions and concepts that were presented to me. I also found that the instruction throughout the course was done so in a thorough and complete manor. Not only do they explain the concepts well, but they explain the camera and all the information you need to know to make sure that you can complete the course and be successful in filmmaking."
I love the introduction video. It truly helps to simulate a classroom situation, and helps you understand exactly what is included in this course. Ken Lawrence seems personable and gives you a great sense of what to expect throughout each module.
The Online Christian Filmmakers Academy is broken up into modules.
Module 1 - The Camera
This particular module has 6 lessons on the camera and finishes up with a quiz over what you have learned.
Module 2 - Cinematography
This module contains 15 lessons covering all the aspects of cinematography and a quiz to test your knowledge retention.
Module 3 - Sound
There are 6 lessons that include what you need and how to utilize your equipment to make sure that you are successful at capturing usable sound bits. (Let me just say right here that I also love that they add information about what to do when things go wrong!! That is sometimes the most important info!!) And of course, there is a quiz a the end of the module.
Module 4 - Pre-Production
This is a short module containing only 5 lessons. By the time your child hits this module, you are well into the nuts and bolts of the course. This module discusses things like the importance of a good story, paperwork and screenplay writing.
Module 5 - Production
As you move through this 6 lesson module, you will see the culmination of every other lesson come to life. This is where everything that you have been working on has the opportunity to come to life. Don't skip the quizzes at the end of every module. This is a great opportunity to make sure you understand the information before moving on.
I also have a great opportunity for you! You are welcome to take advantage of a coupon code and get the curriculum for $100 off! That is an amazing deal and well worth it. Just go to the website and type in the Coupon Code FALLCREW16 and you will get this fabulous curriculum for $199.00.
Check out the social media sites and take some time to follow this amazing company!
Social Media Links:
Current facebook page for our hands-on film camp is:
www.facebook.com/christianfilmmakerscamp
New facebook page for just the Online Christian Filmmakers Academy:
www.facebook.com/ChristianFilmmakersAcademy