I am so excited to be a new member on the Schoolhouse Review Crew. So far I have loved it, and I am happy to be able to share the first project of the season with you.
The
SchoolhouseTeachers.com.
offers a
Yearly Membership
to their site, and that is what we received to review.
Right after signing onto the site, I was blown away by the resources available! There are so many options of wonderful classes available. My girls and I were so excited as we huddled around my computer and went through all the classes available to see what they would like to do. There were complete year courses like: Animal Science, Architecture, Biology, French, Geology, Guitar, Mock Trial, Pre-Algebra, and Music Theory, and more. They also have semester courses like: ASL, Botany, Creative Writing, Hands-on-Hebrew, Home Economics, Logic, Photography, Tinkers Club, Trigonometry, and more. You can also utilize these courses as fill in if you need something for unit studies to fit your homeschool needs. They also have several resources just for parents. They truly have thought of everything! The website offers you over 100 courses taught by different teachers for you to use to fit your homeschool needs.
I love the fact that the membership is a family membership and there is not a "per member" charge. That way with one low rate the entire family can get the most out of the site as possible! It is packed full of opportunities.
When we decided to review this site, we went all in. I have one in Middle School and one in High School and they each picked a course to review. My younger daughter is going through the Pre-Algebra course and my older daughter is using the Creative Writing course. They love it. My daughter in Middle School has struggled with math for most of her life, and she is loving this curriculum. It is easy for her to understand, and I find her excited to get to work. We have also utilized the "Dailies" portion of the website with her. She uses the math facts section daily as a time test and is boosting her math facts skills everyday with pre-made worksheets right at her fingertips! They are easy to print and use. When you print a worksheet with
SchoolhouseTeachers.com
, the answers are included. They will either print on a separate sheet or at the very bottom corner of the page! How great is that!
My older daughter loves to write and is working on her first paper for Creative Writing. She can't stop talking about it. The lessons are easy and fun. You go into the course and read the lesson and then do the classwork for each day. Even as I am writing this review she is in my office telling me about the characters in her story and what their names are! She is writing a fiction story (mystery/thriller) and I know it will be great when she is done. I love it! This is what school at home should be like!
I personally decided to use the menu option in the Dailies section. There is a recipe for everyday of the year. Now granted, the recipes aren't all main dishes....they mix it up a little bit so you can try something new each day, whether that is a main dish, side dish, or dessert! In fact, I used one of the cookie recipes just the other day. We made "Cool Whip Cookies" and yes, they are great! They are simple and easy to make, and completely yummy!
SchoolhouseTeachers.com also offers a
Facebook page
where you can get ideas from others homeschooling parents that use this site. You can also see how other parents are able to utilize the resources in this site in creative ways in their homeschool. There is also a
Pinterest page
where you can see all the wonderful ideas they share for your homeschool projects and curriculum! :-) You will want to check these pages out as well!
The cost for this unparalleled site is usually $139 for the whole year or $12.95 a month. But of course with the holiday season comes holiday savings, right!!?? So, with that being said, from now until Christmas Day you can get 40% off the monthly membership or 50% off the yearly membership. That means you can get this amazing full curriculum at your fingertips for only $7.77 a month. If you'd rather pay by the year you only pay $64.26. On top of that, you can keep that rate for life as long as you stay a member of the site. It will never go up!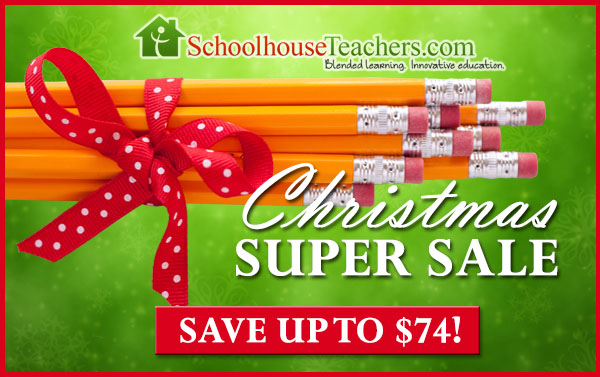 I personally love this site! You are able to pick and choose what you would like to do. You can use this as your core curriculum or use it in addition to whatever you have been using. It is very easy to navigate the website and the options are limited only by you. Like I said, I have enjoyed using this site, but what is more important.....or even most important is that my girls have loved it too!
That makes for a Happy Homeschool Day!