This post may contain affiliate links.
Thank you for supporting my blog and homeschool!
See my full Disclosure statement for more information.
When I first started homeschooling my girls the hardest part of it all was not only finding the curriculum that would work best for them. . .it was making up worksheets, tests, and the like. . . Can I get a witness!? I didn't start homeschooling them until Middle School and High School which only added to my stress level. So imagine how excited I was to have an opportunity to review CHSH-Teach.com and their CHSH Download Club!!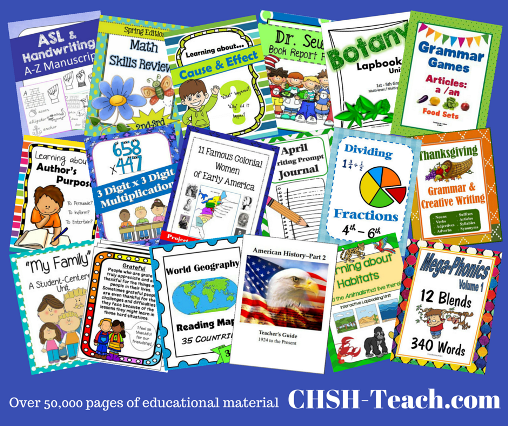 This product is nothing short of phenomenal!! There is literally something for everyone. The opportunities are endless! The CHSH Download Club is one of the most vast databases of helps I have ever witnessed! With something for any grade level, it won't take you long to find exactly what you were looking for. In fact if you are anything like me, it won't take you long to find something you weren't looking for but will fit your needs exactly! Have you ever heard the saying, "You don't know what you don't know?" Let me just change it up a little bit. . . "Sometimes you don't know what you need until you see it!" That is exactly what happened to me as I browsed through the CHSH Download Club options. With multiple ways to browse for what you need, I double-dog dare you to find nothing that will work for your homeschool!!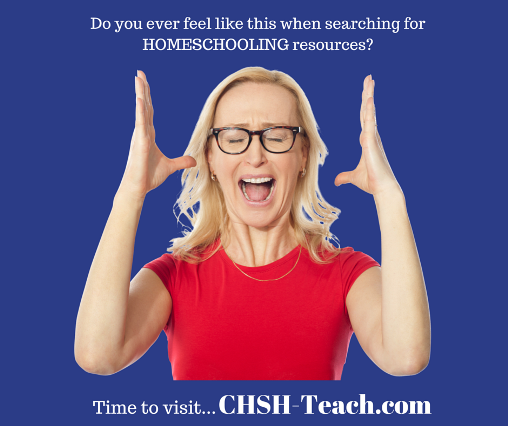 Give yourself a break and try this website out for yourself!!
My daughter needed a science course and I was able to download the entire science book and the teacher's guide!!! WHAT!!?? This was the one we chose for her freshman year, but there are definitely more choices and a different class may suit your needs better. Which is entirely the point of this incredible website! She loves Science and dove right in. Unit 1 caught her interest immediately with this...How are Waffles & Running Shoes Connected?
Take a look at the images below. This shows the ease of access to the product as well as the multiple ways you can search for whatever it is you are looking for.
I am so glad that I had the opportunity to review this product! There is so much here to help you and your student. I know that as a homeschool parent our goal is to give our children the best education possible. Christian HomeSchool Hub (CHSH) has put together an amazing site to help you do just that! So whether you have one (1) child you are schooling or eight (8), you will find this resource beneficial! In fact this site has me wishing I had more than two thumbs so I could give it a better rating than two thumbs up!! LOL!
You don't have to take my word for it. . . check it out for yourself, I have no doubt in my mind that you will love it as much as I do!! Take a few minutes and click the link below to read more reviews, or check them out on their social media links below!!
Pinterest
Google+ Group