This post may contain affiliate links.
Thank you for supporting my blog and homeschool!
See my full Disclosure statement for more information.
Writers in Residence

is a language arts program that is focused on writing, and takes the guesswork out of teaching your children this very important skill. As your child works through this program they will learn parts of speech, punctuation, sentence structure and capitalization usage all while completing creative writing assignments.
From the preface of the Student Text and Workbook the passion that went into this program is evident. Author Debra Bell makes it clear in this statement, "My goal is to give each young writer confidence, purpose, and a sense of calling. Now more than ever, we must be able to express ourselves compellingly in writing if we hope to be heard or to make a difference in our culture...I do not view writing or language arts as confined to a school setting. I believe language is an amazing grace from God and a gift to steward and revel in." I couldn't say it better myself!
That alone caused me to fall in love with this program!
What I received: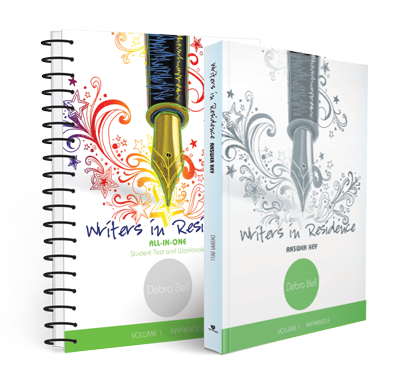 I received both the Student Text and Workbook, as well as the Answer Key for Volume 1 (Apprentice). With the Student Text and Workbook being together in one book, I found that the large spiral binding was perfect for this all inclusive book.
At the beginning of the Student Text/Workbook you will find a section that describes how to use the book. These pages walk you through the way that the Units are broken down and what to expect in each section.
In the Welcome section Debra briefly introduces herself and tells the students the importance of gaining writing skills. Then Spotlights several Christian writers that will be referenced in the Writers in Residence Program. You will also find pages describing the six traits in the writing model, an introduction to the writing process, potential schedules, and so much more!
How We Used the Product:
My daughter dove right into the program and really enjoyed the way that this product was laid out. The first unit was entitled, "When I was Young (I Remember)" and I found it a lot of fun to see the things that she remembered! Each unit is broken up into different modules. Although she was learning new things, I could see that she was having a great time! That alone is a huge blessing to this homeschool mom.
Then she was asked to research her name. I could see her wheels turning as she dug into the information regarding the history of her name and what it means. I grew up in the era of Schoolhouse Rock and so I don't feel bad at all quoting them when I say, "It's great to learn, 'cause knowledge is power!"
My Bottom Line:
I loved this program. I found it to be a complete and comprehensive language arts program, and I love the emphasis put on writing. I was just talking with some friends today about the importance of raising well-rounded children. I believe that is just as important in their educational life as it is in their emotional, physical and spiritual life. Writers in Residence will help you get your child there if you give it a chance!
Good luck and happy writing!
Social Media:
If you are like most of us, you enjoy connecting via social media links. Please check out the links below.
Facebook:
http://www.facebook.com/apologiaworld
Twitter:
http://www.twitter.com/apologiaworld
@apologiaworld
Pinterest:
https://www.pinterest.com/apologia/
Instagram:
http://www.instagram.com/apologia