This post may contain affiliate links.
Thank you for supporting my blog and homeschool!
See my full Disclosure statement for more information.
Recently I received Essentials 2nd Edition from Logic of English to work through with my daughter. So for the past several weeks we have been hard at work! The second edition of Essentials make it not only easy, but fun to learn the Logic of English.
Essentials 2nd Edition is great for homeschool families because of the wonderful way that it is created. Essentials is designed to teach students at multiple levels of learning. Because of this fact, Essentials can respond to each students growth as they move from one learning level to another.
What you will find when you begin a lesson, is that each one contains essential concepts your student must learn as well as all three levels of spelling lists, grammar practice, and vocabulary instruction.
We were so excited to dive into this amazing curriculum and check it out for ourselves.
We received:
Essentials Teacher's Guide Volume 1

Essentials Student Workbook Volume 1

Phonogram & Spelling Rule Quick Reference Guide

Phonogram Game Cards (Green)

Phonogram Game Cards (Blue)

Essential Reader Teacher's Guide pdf

Essential Reader Student Activity Book pdf
My decision to homeschool

was

mainly because my youngest daughter was needing some additional assistance and seemed to be slipping through the cracks in the "brick and mortar" education system. Although she seemed to be a great reader, her reading comprehension level was below grade level and causing her so much frustration! At that time we began a new journey! Thankfully, Essentials is now a part of that journey!
How we used this product: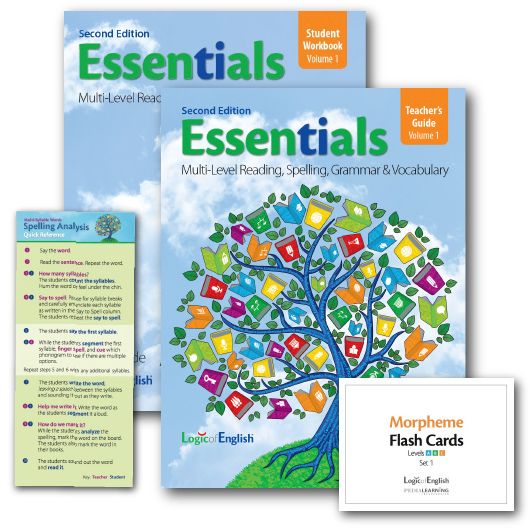 I was able to plug this product into her schedule so that we could get started with it right away! I found the Teacher's Guide to be very instructive and well written. Each lesson is split up into 5 parts...one for each day of the week. You begin with the essential concepts that will be taught throughout the lesson. Then throughout the week your student will move through a Spelling Rule, Spelling Journal, Building Words, Spelling Analysis...or tips for the spelling list, Grammar, Parts of Speech, Dictation, Vocabulary, Composition and Reading. We also were able to utilize the Essential Reader pdf and the Activity Guide pdf as well. These were a "bonus" for us. It was a great way for us to practice these concepts more fully. The flashcards were also a wonderful
addition to the learning process. You know that kids seem to forget things easily...this method of learning helps take these concepts from short term to long term memory! What a wonderful way to solidify the concept. Practice truly does make perfect!
My bottom line:
This is an INCREDIBLE curriculum!! From the start it will engage your student and take them on an amazing journey teaching them the Logic of English. You will find that the variety of different learning methods do what they were crafted to do. You will see your student learn by leaps and bounds as they work through this curriculum, which is what we always want!!
Purchase yours today!
Social Media:
If you are like many others, you love staying connected through social media. Please take some time to check out these social media links.
Facebook:
https://www.facebook.com/TheLogicOfEnglish/
@LogicOfEnglish
YouTube:
https://www.youtube.com/user/LogicofEnglish

Pinterest:
https://www.pinterest.com/logicofenglish/