This post may contain affiliate links.
Thank you for supporting my blog and homeschool!
See my full Disclosure statement for more information.
I believe that the Nemesis of every homeschool is poor planning! I have planned well....and I have slacked off.....and I know how hard it is to get back on track when you fall off. To stay on track in your educational needs, especially with more than one student, you must plan everything out. I have just the ticket for you and your homeschool! I was able to review
The Ultimate Homeschool Planner
from
Apologia
Educational Ministries.
About The Ultimate Homeschool Planner:
This gorgeous planning system designed by best selling author Debra Bell is spectacular! Upon opening the planner you will find several pages that hold the next several school years as a quick reference. The last school year listed is 2022-2023. I love that this quick reference is here.....this will help you as you plan try to ahead. This planning system validated what I have found to be true, "planning won't eliminate chaos and disorder, but it can reduce it." (
The Ultimate Homeschool Planner
: Welcome Page)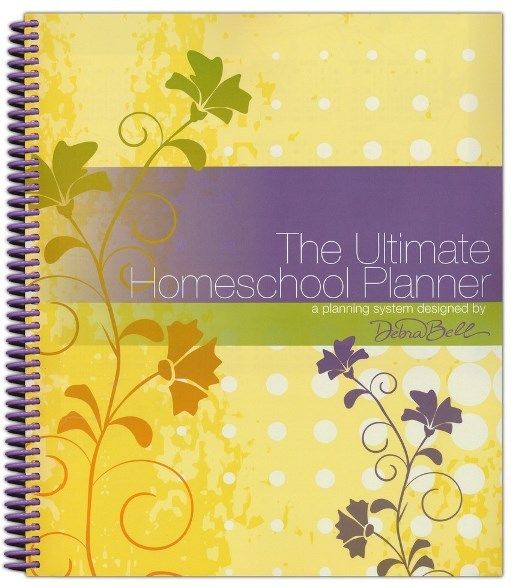 Before you begin planning take some time to read the User's Guide on pages 6-17. These pages are full of helpful information and tips. As you read through this guide, take some time to follow the tips that are so nicely laid out. As you put these tips into action you will find that you aren't feeling as overwhelmed about homeschool planning as you used to. I wish I would have had this planner for my first year of homeschooling, I think things would have gone more smoothly for us!!
One of my favorite sections in the planner is the Student Goal Setter. I know how important it is for my students to "buy in" to what we are doing and this goal setter helps with that. It is fun to sit down and set reachable goals with your student for the school year, and then work together in order to meet it over the next 180 days.
The Ultimate Homeschool Planner
allows you to plan out your months and then break it down further into weeks. The monthly planning pages don't allow for tons of details, but then when you get to the weekly planning pages this is when you can take some time and fill in the details. There is plenty of room to write.....which I am very glad about. I hate trying to fit lots of information into tiny little boxes!! RIGHT!?
The beginning of each week has some extra pages that you won't find in just any old planner.
The Ultimate Homeschool Planner
allows you to have a Bible Plan, Battle Plan, Prayer section, Hospitality/Outreach goals, Memorable Moments for the week, and Evidences of God's grace. This puts your whole homeschool in the proper mindset, with God first and foremost!!
At the back of the planner is a section to record grades, plot reading lists, plan out high school years, record field trips and activities, and then you will want to make sure you read through all the teaching tips from pages 266-271. These helpful tips and tricks will surely make your life easier!!
How I Used This Product:
I spent some time planning some stuff! I had another planner I was already using for school, but it was nothing in comparison to
The Ultimate Homeschool Planner
. When I sat down to utilize this fabulous planner I was pleasantly surprised by the layout. The way that this product is put together helps you organize things in your planner .......and your mind better! You will see a difference in the way you tackle a school week, because you have taken the time to utilize this amazing planner by Apologia Educational Ministries! Planning out the school year with this product is an absolute pleasure!
My Bottom Line:
I believe that this planner is a help for your homeschool. I have enjoyed utilizing it in mine! I love that there are verses and quotes that are sprinkled throughout this well thought out planner that provide encouragement and direction. If you haven't already done so, get one of these for yourself, and find out just how helpful this planner can be in your homeschool!
Social Media:
If you are like most people these days, you like to stay connected via social media too. Here are some links to check out.
Facebook:
https://www.facebook.com/apologiaworld/timeline
Twitter:
https://twitter.com/apologiaworld
Pinterest:
https://www.pinterest.com/apologia/
Google+:
https://plus.google.com/105053356034237782125