This post may contain affiliate links.
Thank you for supporting my blog and homeschool!
See my full Disclosure statement for more information.
What is it that we all look for in a game? What makes a game successful in your homeschool classroom? We all have some sort of criteria that we attach to our game search to help us decide if it is worth our time and money. Well,
USAopoly
has hit the ball out of the park!! My family and I had the privilege to review
Tapple: Fast Word Fun for Everyone
and
Wonky: The Crazy Cubes Card Game
and as soon as we opened the boxes we were hooked! Well, if I am going to be completely honest, I was hooked from the moment I read the names! ha ha! I love unique and fun games, and I knew I would love these games from their unique and fun names!
Tapple: Fast Word Fun for Everyone
Let me just say.....if you are a fan of a fast-paced, energetic, creative game this one is for you! You are racing against the timer in this categorical game. The cards are the categories and after one is picked you have to think of something that fits in the category that starts with one of the letters and then depress the letter as you say the word. Your kids will find themselves learning when they aren't even meaning to! Learning through play is my favorite way to learn!
Let me add a small disclaimer about age. There is a suggested age of 8+, which I only mention because I tried to play this game with a 2 year old, and let's just say.....there is more to this game than pushing the buttons! ha ha! She had a blast, but it definitely helps if your children know their letters!
This game is great and has brought my daughters and I hours of fun!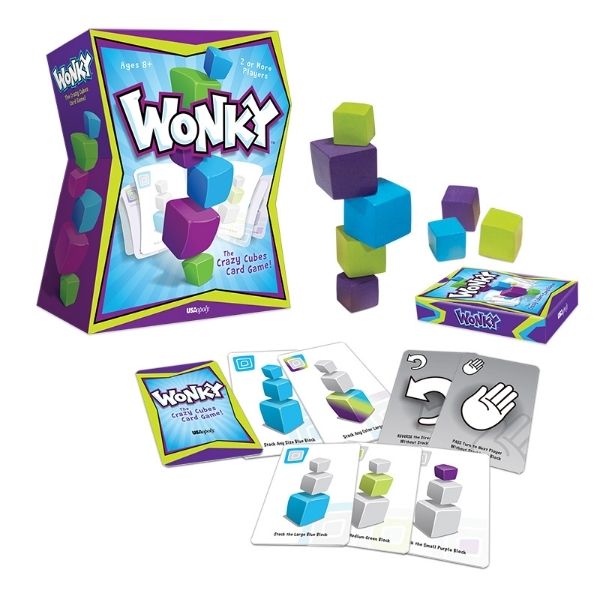 Wonky is a simple game that is not so simple. Try it once and you will understand that statement completely. The simplicity of the game is it's charm. You have cards that tell you what to do. You follow the card and stack the blocks without knocking it over......simple enough right?! Wrong!!! Not only are the blocks a little wonky [yes....pun intended!] but you add the strategy of which card to play in order to cause someone other than yourself to knock over the stack, and you've got a game that is anything but "simple!" Be the person to get rid of all your cards without knocking over the tower of blocks and you become the winner!
This happens to be my youngest daughters favorite game. This picture was a final game before bed!
Even though it is her favorite game we all loved it! Even the little 2 year old that tried out Tapple gave this one a whirl. As intelligent as she is, it helps if they can read before attempting the game. She did have a blast stacking the "wonky" blocks but that was about it. If you stick to the age recommendations you should be prepared for a lot of fun!
These games are made to play, and that we did! My girls wanted to play one of the games every night before bed. It was nice to have time with them, all while huddled around these fantastic games.
What is not to love?! These games are fabulous by design and fun to play. My girls and I have spent many hours playing these games, and we found them to be .......well........ABSOLUTELY AWESOME!!!!
I have no doubt that these would be a welcome addition to your game closet. With it being September already [ugh! Which is so hard to believe], you could start thinking about purchasing them for Christmas presents. These games are easy to play and easy to love!
Don't forget......
Have fun!
Connect through social media: