This post may contain affiliate links.
Thank you for supporting my blog and homeschool!
See my full Disclosure statement for more information.
I don't know about you, but I find it extremely difficult to find curriculum for my kids. Now don't get me wrong, there is an over abundance of good curriculum readily available for homeschoolers. The problem for me is this, I find it difficult to find the curriculum that will be challenging, but not too challenging.....all while keeping it both educational and fun!
That is where Fascinating Education comes into play. I had the opportunity to review Fascinating Physics over the past several weeks, and it has been awesome!
Well, let me correct that last statement.....My daughter has been actively reviewing the product....while I have been observing. Yes, that is more precisely what has been happening! Ha ha ha!
About The Product:
Fascinating Physics takes science and makes it relevant to your student by showing them how it impacts the world around them. I love how they blend audio and visual together in an award winning team to teach your student step-by-step each concept. Our brains are created in a manner that processes images more quickly than words, and they have optimized in a creative and very effective way.
Lessons are laid out like you see below with buttons to click below each picture that gives you access to the lessons, scripts, and tests that go coincide with each lesson. Below, you will find a picture of what it looks like when you log in, and you're getting ready to pick a lesson.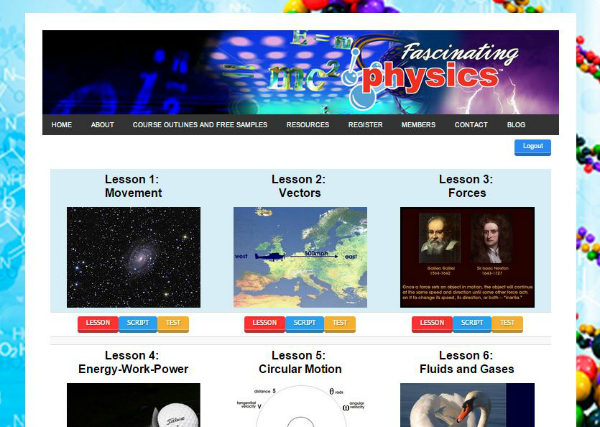 Each lesson has a corresponding text script, along with an online quiz for your student to take. There are also pdf versions of the quizzes and answer keys (accessed by a secondary password) so that you can proctor the test if you would prefer.
If you think that this sounds wonderful, but your student isn't ready for Physics yet, don't worry. There is also Fascinating Chemistry and Fascinating Biology. Dr. Margulies, the creator of the curriculum, did a wonderful job in putting it together in a manner that facilitates learning at the highest levels. With his background in neurology, he understands how the brain works and he has used that understanding in the formulation of this curriculum.

How We Used It
I decided to plug it right into her schedule for school and let her use it daily. What a wonderful decision that was. First, let me start off by saying, she loved science to start with. However, if she didn't....she would now. Fascinating Physics uses technology to leverage optimum educational potential! Basically.....SHE LOVED IT! She found it easy to understand, easy to use, and fun as well. That is always a good find on the homeschool science curriculum hunt!!! Right??!!
When I asked her what she thought of it, she said, "I love it. It sure makes learning easy! It is the best form of online curriculum that we have had. I love how there is a script that goes with everything. I am not a big fan of online curriculum.....but I love it!" That my friends is what I love to hear!
My Bottom Line
Well, if you haven't guessed already, WE LOVE IT! We are so thankful for the opportunity to review this excellent product. I don't hesitate recommending it to you. I know that your student will enjoy Physics class....or any of the other classes offered by Fascinating Education because this curriculum is top notch!
I would love to hear back from you if you give it a try! Also, there is a sample lesson available if you click

here

.

Check it out!
Happy Learning!