We received
Orphs of the Woodlands
The Treasure of HighTower
online educational resource and game by
Star Toaster,
to review and I have to say it was absolutely spectacular! They have really put together an amazing online curriculum that is fun and educational! From the moment my daughter logged in, she was hooked, and when she got done she was begging for more!!
We have tried several different online methods of education with my daughter, and until now, we had never quite found anything that both fit our needs with her learning style and held her attention! It doesn't take much looking to notice that our society has become more and more "techy." With the advances in technology, it is not uncommon for homeschool families to incorporate online schooling into the homeschool year, or even the day.
Star Toaster's
Orph's of the Woodlands is the way to go! This is not simply an online book, it is much, much more than that.
From the first page, this book brings the student into the story and makes them a part of it. As my daughter chose the name of her character, it was placed in the book through to the end. She was so excited about that! I was excited that she loved the book so much and that it was sprinkled with positive character qualities. The main character of the book always answered everyone's requests with "I will do my utmost." What a great thing to intertwine into the story!
After each chapter the students can participate in the game portion of the book. They complete "jobs" to earn gold stars to take care of the orphs (orphans). Each job, reinforces skills that were discussed in the book. There are hundreds of lessons that are woven into the story, and it is done in such an excellent way! Then with the gold stars, you can purchase plots of land and other items to help care for the poor orphs that need help. By the time that my daughter completed the book this is what her skills tally looked like.
The Arts 6 Jobs
Below is the game screen where the orph care is arranged. After completing jobs, the gold stars are used to purchase items needed by the orphs to survive, and also to purchase more plots of land.
Putting it to Use:
My daughter and I read the book together. We had planned to work on it three times a week, but we ended up working in it everyday. We took turns reading it aloud to each other. Well, at least at first. It didn't take long before she was so caught up and intrigued by the book, that she went on and read most of it without me. I had to catch up on my own! Another wonderful feature of this curriculum is that I received updates on the status of my student and what she was learning via email. The Progress Report email also lets me know what is coming up in the next chapters that she will be reading. I love the fact that it is so easy to track what your student is learning and how well they are comprehending it all!
My Bottom Line:
AMAZING!! I found this to be an amazing resource that we can't live without in our homeschool. We are anxiously awaiting the new book that should be releasing sometime in the near future! My daughter asks everyday if I have heard anything about it! I find that so great since my daughter is not a fan of reading.......well.....at least until now! Thank you Star Toaster!! We loved Orphs of the Woodlands: The Treasure of HighTower, and we can't wait to see what you have in store for us next!!
Please take some time to check out the website and sign up for a free trial. You will be so glad that you did!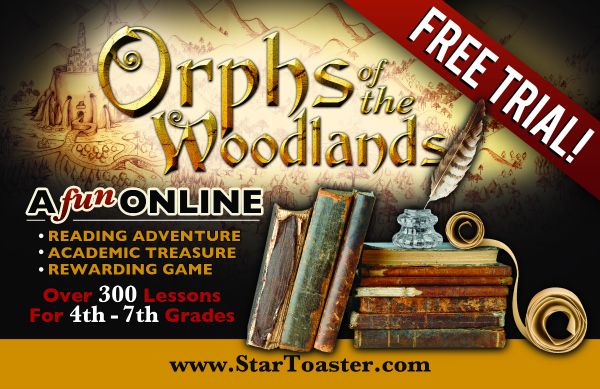 Check out the social media sites:
To see more reviews on this topic, click below.