Although cursive has been almost entirely taken out of the Brick and Mortar education, I still believe that it is important for my girls to learn and use on a daily basis. That is why I was very excited to have the opportunity to review Patriotic Penmanship High School grades 9-12 by Laurelwood Books.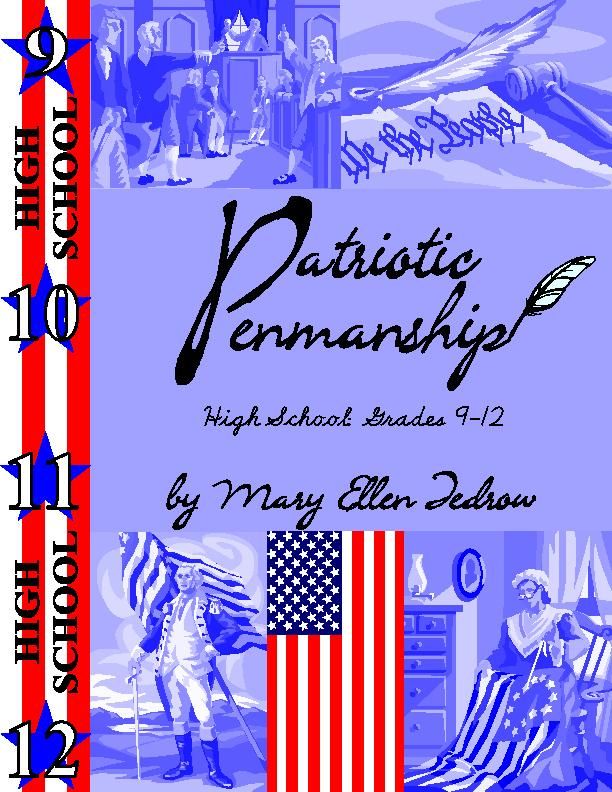 Patriotic Penmanship is a series of consumable workbooks that is specifically designed to help your child develop their handwriting. I personally loved the fact that what my daughter was learning as she practiced her handwriting, was historical quotes. We reviewed the High School level of Patriotic Penmanship. This is one book in a series of books that start at the Kindergarten level and go all the way through High School. If you are interested in this product, but have children in a different grade, please check out some of the reviews of my fellow crew members who had the opportunity to review these other levels.
Mary Ellen Tedrow is the author, and operator of Laurelwood Books for the past 20+ years, and, most importantly, a homeschooling mother of seven! It became clear to me as we worked our way through this workbook that she has been around the block a few times. I found that this workbook flows nicely, and makes handwriting and penmanship interesting by having the students copy important historical quotes, etc.
Patriotic Penmanship High School Grades 9-12 has 82 pages and contains 30 lessons of penmanship practice. It begins with practice for each letter and then dives right into practice of things like: The Introduction of the Declaration of Independence, the Preamble, Scripture References, poetry, well-known quotes, I Have a Dream Speech, and much, much more. The way that the lessons are laid out is to begin by tracing the entire selected portion. Then right below it, you can practice writing what you just traced. The "Full Quote" portion is my all time favorite part of the cursive lesson. This is where your child is given the first word of each phrase, and your child has to try to remember how to finish it, and write it down. This is a unique method of memory all while working on their handwriting.
We are officially in our "summer break," but that didn't stop us any. I had my ninth grader dig right in, and continue her penmanship practice. She tends to be a little bit of a history buff....maybe because her dad is a old war movie buff...but at any rate, she loved the fact that she was practicing on historical quotes and scriptures like Psalm 23.
For the most part we absolutely loved this workbook, and wish that we would have found them earlier so we could have worked through the entire series. With that being said, I felt like it the lessons could have been a little longer, or possibly more of them. We loved it...and wished there was more of it!
If you would like to find a Patriotic Penmanship that suits your homeschool needs,
click here
.
See more reviews! Click the picture below!