This post may contain affiliate links.
Thank you for supporting my blog and homeschool!
See my full Disclosure statement for more information.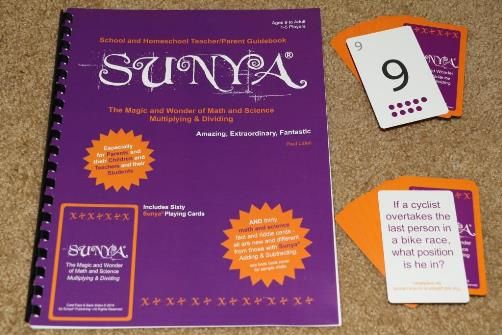 Sunya Publishing has created two unique games that will help your student improve their math skills:
Sunya - The Magic and Wonder of Math and Science Adding & Subtracting
Sunya - The Magic and Wonder of Math and Science Multiplying & Dividing.
Paul Latell did a great job of putting together a creative and wonderful game that not only helps your students do math in their heads, but allows your students to have fun while they're learning. With my family receiving Multiplying and Dividing, I can see how easily Sunya can be used to commit multiplication facts to memory...when it comes to multiplying, this is a new twist on flashcards!!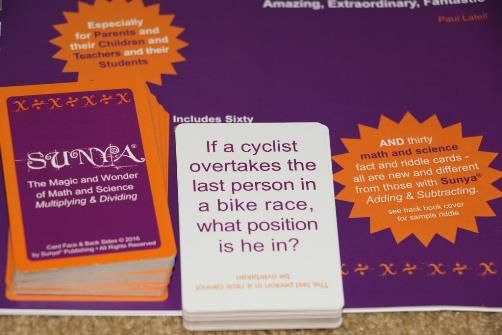 I really like that Sunya can be played by anyone. In fact, I think it works out better if people from different math comprehension levels play together. That definitely increases the learning potential for everyone involved. So children, teens, parents, and grandparents...whether in a family game situation, classroom, or homeschool co-op...you can rest assured that everyone will have a great time learning and playing this wonderful game!
What you can expect to experience when you break open this game...
you will have fun making number sentences





you will strengthen your math skills while having fun playing an educational game





you will learn amazing math and science facts





you will use imaginative and creative thinking to solve math and science riddles





you will play an enjoyable learning game with family members or school classmates






My girls and I had a great time playing the traditional version of this game together, and I am quite sure that you and your student will as well. In the Guidebook you will find a description of all the different ways you can play Sunya depending on the amount of players that you have. The picture above is set up for 4 players, but you can play with only one player (Solitaire) and you can play Sunya 400 or Team Sunya 400. In Team Sunya 400 six people can play grouped together in teams. In either Sunya 400 game you earn points...there is a sample score sheet included in the guidebook for you to use.
Although this product is brand new and not yet available for purchase, it should be ready for purchase in the next few days. Click here to check on availability for purchase, and as always....Thank you for reading!