This post may contain affiliate links.
Thank you for supporting my blog and homeschool!
See my full Disclosure statement for more information.
Memoria Press
is one of my absolute favorite vendors so I was thrilled that my daughter had the opportunity to help me review the
Book of Astronomy Set
. She was pretty thrilled as well since she has been interested in Astronomy for a couple years, and so this opportunity was exciting for both of us!
The astronomy program covers stars, constellations, the motion of the earth, seasonal zodiacs, as well as the sky as seen throughout the seasons. Although all homeschool families are not necessarily Christian families, we are....so I love finding curriculum that incorporates the Word of God. Deuteronomy11:18-20 makes it clear what is expected of us as parents. "Fix these words of mine in your hearts and minds; tie them as symbols on your hands and bind them on your foreheads. Teach them to your children, talking about them when you sit at home and when you walk along the road, when you lie down and when you get up. Write them on the doorframes of your houses and on your gates." Not only does the program begin with several verses, your children will have the opportunity to copy several verses from the Bible regarding stars as they complete their work. I love that there is curriculum that will help you teach your children that the Bible is good for practical application for everyday life.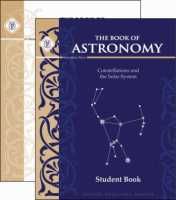 I
received the Book of Astronomy Teacher Guide and the Student Book for the review, and shortly after receiving it...we dug right in. Astronomy starts with memorizing the 15 brightest stars in the sky. They break it down and you can learn five each week. My daughter learned the Summer-Fall Triangle first, after that students are introduced to a constellation and its brightest star. For each constellation, information is given along with the star pattern, which the students connect, in order to see the shapes our ancient ancestors saw in the night sky.
As you go through this study you will that that constellations named for Greek heroes or Gods have a reference to D'Aulaire's Greek Myths. The additional reference helped my daughter make the connection between the two, and that will make the information stick with her longer!
My daughter used the curriculum several times a day and had a great time working through the student book. I think her favorite part was tracing out the constellation, only second to realizing the correlation between the names of the constellations and Greek mythology! LOL! She said, "It sure makes you look at the stars differently!"
I recommend this curriculum highly. Not only is Memoria Press a wonderful company, but I am confident that your child will enjoy it as well. Although this curriculum was designed with third graders in mind, my daughter is quite a bit older and it worked very well for her. Check it out for yourself, then order your own set today!
----------------------------------------------------------------------------------------------------------------------------
Social Media has become a big part of our everyday lives. If you are like most people, you enjoy connecting with people and companies via their social links.
Here are a few for you to take a look at:
Facebook -
https://www.facebook.com/memoriapress/
Twitter (@MemoriaPress) -
https://twitter.com/MemoriaPress
Instagram (@memoriapress) -
https://www.instagram.com/memoriapress/
LinkedIn -
https://www.linkedin.com/company/memoria-press?trk=nav_account_sub_nav_company_admin
Pinterest -
https://www.pinterest.com/memoriapress/
Google+ -
https://plus.google.com/u/0/b/102017568472649365859/104379865092561103366/about?_ga=1.103684480.147808133.1453409903