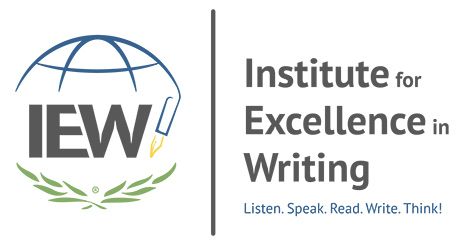 This post may contain affiliate links.
Thank you for supporting my blog and homeschool!
See my full Disclosure statement for more information.
What I Received:
Teacher's Manual

Leather CD Wallet

CD 1 - Level 1: Poems

CD 2 - Level 2: Poems

CD 3 - Level 3: Poems

CD 4 - Level 4: Poems

CD 5 - Level 5: Speeches

DVD - Nurturing Competent Communicators

Student e-book - This e-book provides a copy of each poem for the students to use as a visual aid to help with their memorization of it.

Seven Workshops - downloadable MP3 format

Nurturing Competent Communicators

Mastery Learning, Ability Development, and Individualized Education

Ten Thousand and Then Begins Understanding

On Listening

On Speaking

On Reading

On Writing

Student Pages - Physical Copy
IEW is so gracious! They allowed us to receive a physical copy of the Student Pages for the review even though the set is normally sold for $65 and includes a pdf version instead. Rest assured, they do allow you to photocopy the Student Pages...which is wonderful news! Just know that if you feel the need for a physical copy of the Student Pages, it is sold separately for $19.00.
About the Product:
Speaking as a girl who fell in love with poems after reading her very first nursery rhyme, I couldn't wait to dig into this product...and just to ease your mind this is not nursery rhymes! Ha ha! As your children begin to memorize poetry you will see their vocabulary grow. I have always encouraged my children to expand their word selection through a variety of methods, but I have to say ...this is probably the most fun way yet! Instead of spending hours writing out notecards with vocabulary words and their definitions, this program will build language skills and vocab at the same time!
This program makes it easy by providing everything you need to be successful. The book has ninety-six poems and speeches. There are also poems and speeches that are recorded onto CD's for which makes it much easier for both myself and my girls to memorize each poem. It also makes it super easy to take it on the go. To be honest, one of the major benefits to homeschooling was that I was able to travel with my husband more freely (as he travels often for work) and take the girls along with me. Also included in the book are memory charts, instructions, completion certificates and my all time favorite....poet biographies.
How We Used the Product:
Although we took the CD's on the go and kept them in the car to memorize while we were out and about, I did find it necessary to also have the girls spend some time each day with no outside distractions. They were able to easily incorporate some simple memorization practices into their normal daily schedule, and have positive results. They enjoyed reading and memorizing poems written by people like: William Shakespeare, Walt Whitman, Alfred Lord Tennyson, Robert Frost, William Blake, and many more!
My Bottom Line:
This is an amazingly wonderful program. I would recommend this to any homeschool family! Whether you get the set with the pdf Student Pages, or opt to purchase a physical copy of the Student Pages...I have no doubt that you will love it just the same!
Social Media Links:
If you are like most of us, you enjoy connecting via social media. So take some time to check out these links.
Facebook
:
https://www.facebook.com/excellenceinwriting
Twitter
:
https://twitter.com/iew
@IEW
Pinterest
:
https://www.pinterest.com/iewriting
YouTube
:
https://www.youtube.com/user/iewtv