This post may contain affiliate links.
Thank you for supporting my blog and homeschool!
See my full Disclosure statement for more information. 
What is critical thinking? Can you describe it? These are just the questions that this book will answer for you and your student. I had the opportunity to receive and review
The Basics of Critical Thinking
by
The Critical Thinking Co.
To be completely honest.....it is fabulous! I was so excited when I had this opportunity. I am not new to
The Critical Thinking Co.
I have also had the distinct pleasure of reviewing other products from this company in the past, and I have never been disappointed!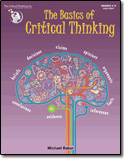 The Critical Thinking Co. has done a great job putting this workbook together. This 146 page book written by Michael Baker for 4th-9th graders, takes your student through a variety of exercises to help them develop their critical thinking skills. First, it starts by explaining what critical thinking is. That was very helpful for my student.
Critical thinking is: "finding and evaluating evidence to try to make the best decisions." As you work through this book, you will see that it focuses on critical thinking skills for making decisions and gaining knowledge.
What I like is that there aren't long lecture times, or a lot of reading pages that go along with each lesson, instead your student will learn through short activities, diagrams and easy explanations. My daughter found the explanations easy-to-understand. I know that is also something my daughter appreciated!
How We Used the Product:
I had my daughter work in this book several times a week. When she opened the book she was excited to dive right in. She found the chapters fun and pleasurable to work through. With the topics being something other than Math, Grammar, or Science.....she found it almost refreshing to have something that gave her a change of pace.
When I asked her what she thought of the book she said, "It was fun and it wasn't boring!" I have noticed a difference in the way that she processes information....which is a wonderful consequence to have!! The Basics of Critical Thinking takes your student through chapters on: Decisions and Conclusions, Beliefs and Claims, Evaluating Evidence, Facts and Claims, Venn Diagrams, Logical Connectives, and much, much more! With the answer key in the back, you will find it easy to check your student's work and answer any questions they may have.
Critical thinking is crucial to the development of your child into an adult, and this book by The Critical Thinking Co. fits the bill!
My Bottom Line:
The Basics of Critical Thinking
is something that all Middle School students should work through. I feel that our society has lost their focus on developing the skills taught in this book. We loved this book and everything about it......with that being said, I really wish it was larger! It didn't take long for me to notice changes in the way that my daughter made decisions as she worked through this book! Which is the whole purpose!
You should head to the website and pick one up for your student today!
Social Media:
You may be like the rest of us, and enjoy connecting through social media. Please follow the links below to connect with The Critical Thinking Co.