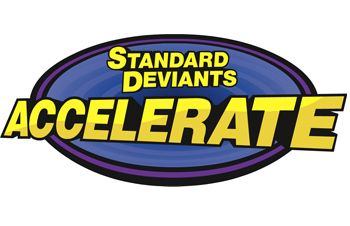 This post may contain affiliate links.
Thank you for supporting my blog and homeschool!
See my full Disclosure statement for more information.
Online courses are a convenient and fun way to learn as a homeschooler. We were glad when we had the opportunity to review the
Standard Deviants Accelerate
(SDA) website. We were given access to all of their
Homeschool Courses
to try out for the review. We had a great time utilizing this resource for our own homeschool.
What You Get With SDA
When you get a membership with Standard Deviants Accelerate you gain full access to online supplemental homeschool curriculum. Online classes allow for flexibility which homeschool moms around the world will tell you is critical to every homeschool! Standard Deviants Accelerate offers a variety of subjects for grades 3-12 with a year's worth of content for each. The classes are split into lessons, and with each lesson you will find video instruction along with multiple topic based assignments. You will notice that each assignment is specifically designed to help solidify the learning process for your student. As you begin each lesson, you will find a full transcript that is visible during the video making it easy to follow along. My student found that a helpful way to stay focused on the lesson.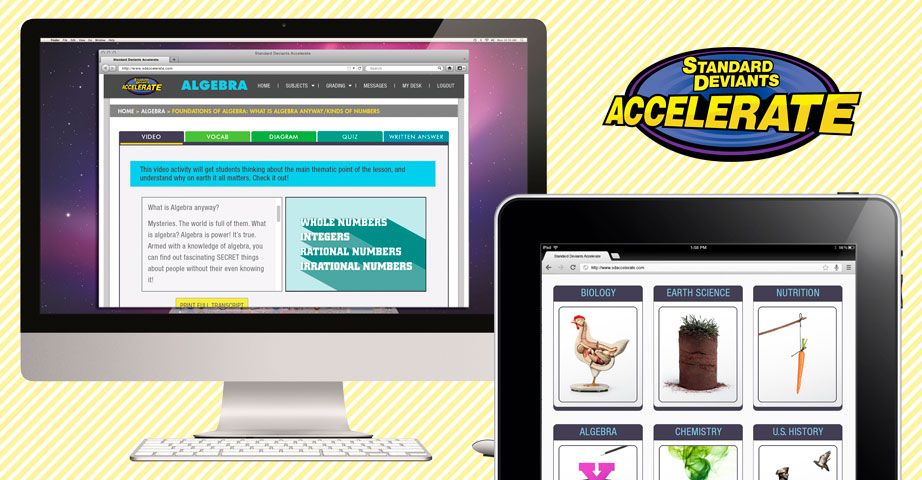 The Standard Deviants Accelerate (SDA) Homeschool Courses range from third grade through high school.
Arithmetic (grades 3+)
Fundamental Math (grades 4+)
Earth Science (grades 6+)
Nutrition (grades 6+)
Biology (grades 7+)
Algebra (grades 7+)
Chemistry (grades 9+)
English Comp (grades 9+)
U. S. History (grades 9+)
AP Biology (grades 11+)
AP Chemistry (grades 11+)
AP American Gov. & and Politics (grades 11+)
AP U.S. History (grades 11+)
AP Eng. Composition (grades 11+)
Standard Deviants Accelerate grades the quizzes for the students. You are also able to take the quiz again if you didn't like the grade that you got. I have found that going back through and "correcting your work," can be a helpful tool.There are also activities and games that your student can do that will help to reinforce the topic.
How We Used It:
My daughter was able to go through the Earth Science class and the Nutrition class. She found the lessons easy to navigate through......and I found the lessons well-written and relevant.
Even though we enjoyed the classes that we were able to use, we did however; find the website confusing. We found it difficult to navigate and not very easy to comprehend how to get started. Even though the curriculum allows the students to retest, it doesn't actually change the grades. Only the initial grade is logged.
My Bottom Line:
Overall, the Homeschool Curriculum from Standard Deviants Accelerate is beneficial to homeschool students. Even though I found the website hard to navigate, you may navigate it better than me....I would be the first to say that there are times I find myself Tech handicapped! I would have found it more enjoyable if it wasn't so hard to figure out.
Social Media:
If you are like most people these days, you like to stay connected via social media too. Here are some links to check out.
Facebook:
https://www.facebook.com/SDAccelerate
Twitter:
https://twitter.com/SDAccelerate
Google+:
https://plus.google.com/+Sdaccelerate/posts
Pinterest:
https://www.pinterest.com/SDAccelerate/