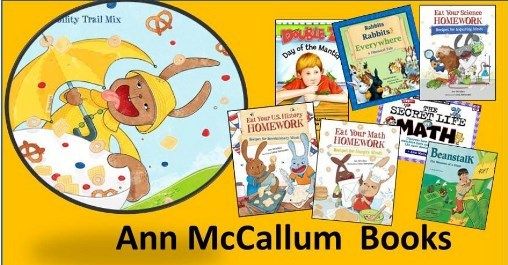 This post may contain affiliate links.
Thank you for supporting my blog and homeschool!
See my full Disclosure statement for more information.
This statement will come as no surprise to anyone that knows me, but I am a "Feeder." I enjoy feeding people, and I believe that it can be a wonderful addition to any event. As either a Sunday School teacher, or homeschool teacher, I find myself looking for just the right snack for little ones that can both fill their tummies and possibly help them remember what I just taught them.
Eat Your Science Homework
from
Ann McCallum Books
is a great tool for your homeschool. I am so glad that we were able to review this wonderful product.
Something that
Eat Your Science Homework
is not...It is not a large, cumbersome, hard to understand book full of things you would never want to try. This book has edible science experiments that range from easy to medium to create and is animated wonderfully! There is even a "Safety in the Lab....er, Kitchen" page that gives your students some step by step rules to keep themselves and others safe during this process.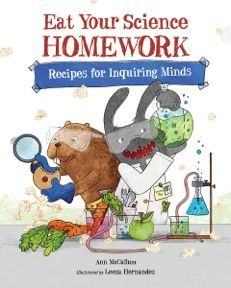 Here is a list of the experiments you will find:
Atomic Popcorn Balls
Density Dressing and Veggie Sticks
Invisible Ink Snack Pockets
Loop, Whorl, and Arch Cookies
Sedimentary Pizza Lasagna
Black Hole Swallow Ups
With each science experiment you will find vocabulary words, information on the topic of the experiment, complete recipe, method, and a science sampler. You will find the book entertaining and the experiments fun!
How We Used the Product:
My girls are huge snackers, and one of their favorites is veggies and dip. We were excited to complete the Density Dressing and Veggie Stick experiment first. The book takes you step by step through the experiment. Although my girls are older and can do a lot of things on their own, this is a great thing for younger kids too. They can not only test their reading comprehension as they work through the recipe, but they can gain pertinent information regarding each topic covered in the experiment.
As we began the experiment
Eat Your Science Homework
explains the chemistry, or lack of chemistry between oil and vinegar. When you toss together oil and vinegar to make a salad dressing, you will soon find out that unless you continue to shake the mixture, it will separate quickly! That means that the two substances are
immiscible
. As you read through each page you will see words in bold like the one above. That means that you can use it as a vocabulary word and your student can look up the meaning of it in the glossary at the back of the book. This is another way to reinforce knowledge and retention.
My Bottom Line:
This is a great book. Although we loved it and found it a pleasure from beginning to end, I do wish there would have been more to it. For those of you that are task oriented when it comes to homeschooling your kiddos, you will find this book a refreshing change of pace. We absolutely loved every page of it, and we found ourselves wanting more! I am glad that
Ann McCallum Books
has several other books that are similar for other subjects. Feel free to browse the website and find one that suits your particular needs. (Especially if you are a feeder like me!) Your kids will be glad you did! Be honest with yourself.....the only thing better than science class is making yummy food in science class!!