This post may contain affiliate links.
Thank you for supporting my blog and homeschool!
See my full Disclosure statement for more information
30% off
The Birth of Jesus Study from

November 27-30

. This is our biggest sale of the year on this product!
Recently, I was able to review
Birth of Jesus:Beginner
by
Grapevine Studies
. With The Christmas season coming quickly, the timing couldn't be any better. If you look around the stores in our country, it doesn't take long to see that the focus is no longer on our Savior, but tends to be on toys, Santa, and decorations. If we aren't careful, the worldview of those around us can infiltrate our families and become the worldview of our children.
It is the mission of
Grapevine Studies
to introduce the gospel to children in a way that will build a foundation for the rest of their life to be built upon. As children build Bible Study skills at an early age, it will transform them for a lifetime.
Grapevine Studies
offers Bible Study materials for children ages 5-14. They offer multiple mediums of learning for those who learn in different ways. Your child will listen to stories being told, then draw what they heard and finally you can review it with them by asking questions. All three work together to teach your child in a way that will stick with them! That is the way that we as parents can help our children build a correct worldview based on the Bible!!
The
Birth of Jesus – Beginner
study features 7 weekly or 14 daily lessons. There are several books that you will need for this study, and each book is sold separately. First, you will need the
26-page Teacher Book
with lesson notes, memory verses, review questions, and key points. You will also need the
30-page Student Book
consisting of lessons pages, timelines, maps, memory verses, and reviews, and a
Traceable book
that includes pre-drawn stick figures for your child trace and color. These tools all work together to open up the bible to your kiddo in a way that engages their heart and their mind! Please note that each book is sold separately.
How We Used This Product:
Although my girls are a little older, I used this product with my friend's little girl, which is almost 3, that I babysit. What a blast to watch the Bible come alive in her eyes! We used traceable pages which worked the best for her. Drawing is a little harder at that age, so the traceables were PERFECT!!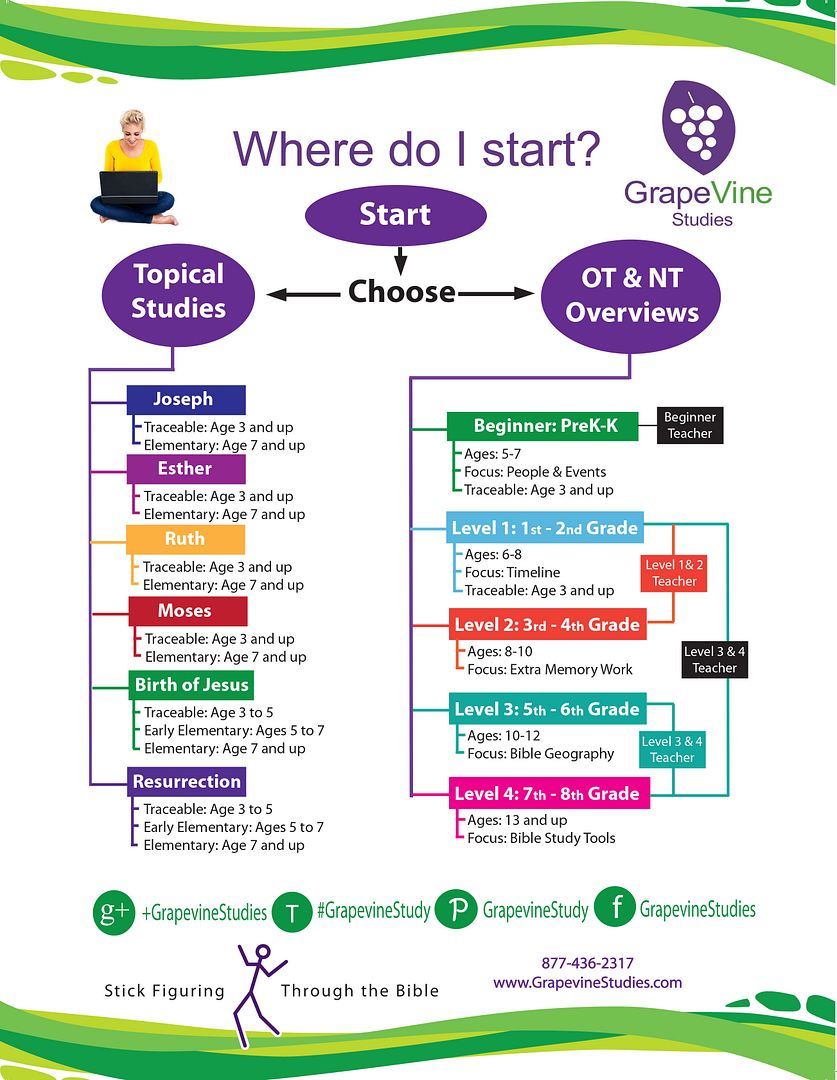 My Bottom Line:
I absolutely love the concept of
Grapevine Studies
and the way they bring Bible study to live for children. My sweet "L" loves to draw and color, and found the traceable pages funny. I liked the ease of the lessons! It is SUPER simple!! I also love the simplicity of
Birth of Jesus study for Beginners
. It worked great for my sweet "L" and I hope to find a few other products that I can use with her. For that matter, I will be using
Grapevine Studies
for my older children as well. Anything that makes Bible Study come to life is a bonus in my book!
Social Media:
You may be like the rest of us, and enjoy connecting through social media. Please follow the links below to connect with Grapevine Studies.