This post may contain affiliate links.
Thank you for supporting my blog and homeschool!
See my full Disclosure statement for more information.
Have you noticed that we live in a day and age where you can't always trust what is playing on the radio, TV.....or even......the content of commercials are being viewed anymore. Of course you have! It doesn't take long to look around, or flip through channels to see the need for an alternative to what is being pushed on us in the mainstream media. Finding wholesome entertainment for your family is sometimes tricky. That is why I am happy that I had the opportunity to review
The Brinkman Adventures-Season 3
by
Brinkman Adventures.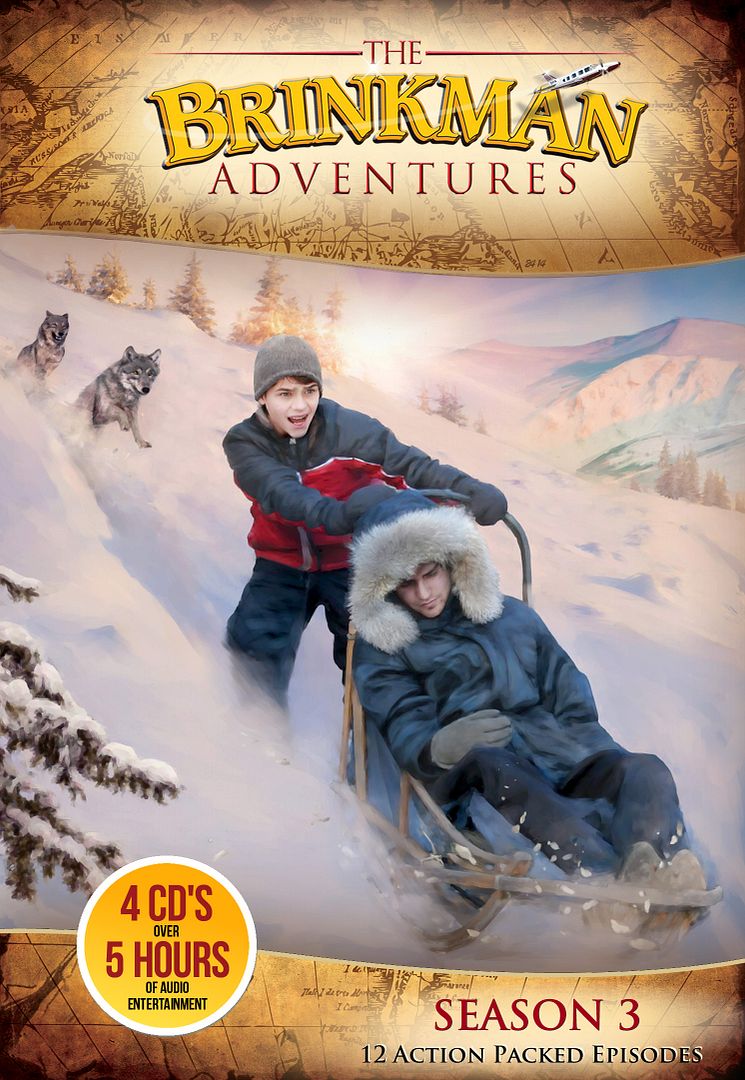 Some of you may be like me, I had never heard of The Brinkman Adventures series before the opportunity to review this product. So when I received the complete third season in the mail, I eagerly cracked open the case and found myself smack dab in the middle of 12 episodes (Episodes 25-36) which equals 5 hours of audio missionary dramas. The Brinkman Adventures is a radio drama about the Brinkman family. This large, adventurous family will keep you on the edge of your seat as they depict true stories of modern day missionaries. I have several friends that are missionaries, and I found myself thinking of my friends while listening to the missionary stories.
Included in the cd case are: 4 Audio CD's with the following episodes:
* God's Mule
* Mountain Mover
* The Silent Ambassador
* Translating Trouble
* Man-Up
* Acorns & Oaks
* A Saint's Story Part 1
* A Saint's Story Part 2
* Untouched
* Busy Bees and a Bullhorn
* Missionary Tourist Part 1
* Missionary Tourist Part 2
There is also a table of contents included in the package with the credits on the back. Something unique that is also included, is a thanks to the missionaries who allowed their stories to be told. Personally.....I loved that. I found it refreshing to listen to these stories that are being told in such unique way. Series 3 is non-stop action packed adventures that will easily hold your attention.
Take the opportunity and head to the website. There you will have the opportunity to listen to a sample episode. To listen click
here
! You can also check out the
Real Stories Section
.....you don't want to miss out on this! When you go to the Real Stories Section you will find more information on each of the stories that are included in the CD's.
How We Used the Product:
We substituted the audio cd's for TV and played them on our DVD player. My kids are older, so we enjoyed listening while we had some light school work going on. It got me wishing that I had a road trip coming up so we could have just popped it in the CD player in the car to listen as we traveled. I feel like that would have been a another very pleasurable way
to listen to this amazing audio dramas!
My Bottom Line:
If you want to put good, wholesome entertainment The Brinkman Adventures Season 3 will not disappoint! The stories are entertaining and well done. As a Christian family we love that these are adventures of missionary families. That only added to our interest!!
Head to the website and order your copy today!
Social Media:
Connect with Brinkman Adventures through Facebook:
https://www.facebook.com/Brinkman-Adventures-152895116079/