This post may contain affiliate links.
Thank you for supporting my blog and homeschool!
See my full Disclosure statement for more information.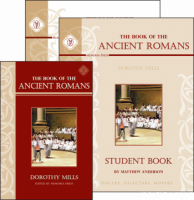 The Book of the Ancient Romans
, by
Memoria Press
was a great study and a wonderful book to review. This book, written by Dorothy Mills and edited by Memoria Press is a wonderful way to gain some of the more classical education by including ancient history into your homeschool.
As a history lover, I find books about ancient Rome fascinating and informative. It really helps you gain a new perspective on the societies of today. It also helps you see that the Bible is true when it states,
"There is nothing new under the sun."
This book is full of quotes from classical historians and will help to prep your student for the reading materials that they may encounter not just in high school, but in college as well.
The book begins at the founding of Rome, and follows the historical documents that have been located. It also makes no bones about the fact that some documents have been destroyed. It takes you all the way through the history of Rome to it's subsequent fall in A.D. 476. After the emperor was set aside in A.D. 476 there was never another emperor set up in Rome, and never again was Rome the seat of the government of the Roman Empire.
When you make a purchase of the classical curriculum,
The Book of the Ancient Romans
, from
Memoria Press
, you will receive the book, written by Dorothy Mills, along with a Student Book and a Teacher's Guide. These two resources are a great addition to the book and an even greater benefit to you and your student. The student guide will help you take snapshots along the way through this book of your student's comprehension of the material and will help you gauge when and how to move forward through the curriculum. As always, it is a huge benefit to have a teacher's guide that has the answer key for convenience and ease of grading. The book does have illustrations added into the text which is a wonderful way of helping students grasp in greater ways the text they are reading!
How We Used the Product:
I used this product with my sixteen year old daughter. We were able to utilize it as a unit study. She too, is a history lover and found the book as interesting as I did. Since we both grew up in church, it was an interesting process of reading the book and really thinking about what our viewpoint of ancient Rome had been before the book as opposed to after. The Student Guide was exceptionally beneficial to her as it tracked her learning all the way through. This was a fun class to do together, since it is something that we both love. I know we would love to check out some of the other classes that
Memoria Press
has to offer.
My Bottom Line:
This is a great book and a wonderful study. This classical curriculum will be a huge benefit to your homeschool and will give your student a broader world perspective. I love that fact! My goal has always been to help my children become well-rounded, whether in sports, in emotions, in knowledge, or in service. So this curriculum has been a wonderful asset to my girls!