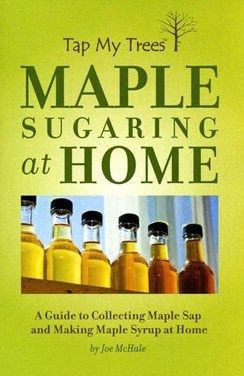 My girls and I are so excited to have the opportunity to spend some time reviewing the
Starter Kit with Aluminum Buckets
from
Tap My Trees.
In the past, each of my three girls had the opportunity to witness trees being tapped and maple syrup being made at a local park near our home. It was quite a sight! But how wonderful to have the opportunity to see how it is done up close and personal. When we received our kit in the mail, we couldn't wait to tear it open to see what was inside!! WE LOVE PACKAGES!
So, even though we haven't made any maple syrup.......yet.....we are looking forward to the possibility of some homemade pancake topping! Since we are not in maple syrup season, we took some time getting familiarized with the contents of the starter kit with hope that we could make our own maple syrup when that time comes.
If you are anything like me, you have never attempted something like this....I mean....I remember the first time I tried to make homemade bread! Thankfully, that is a story for another day. ha ha ha! I'm sure you all have attempted a new project you knew nothing about. That seems to be something I love to do.....find a new project and jump in.
What You Get:
You get everything you need to start making your own syrup. No matter whether you are planning on starting on a small scale or a larger scale, this kit provides exactly what you need.
3 Aluminum (2 gallon) Buckets. These are used to collect the sap

3 Metal Lids. Use the lids to prevent precipitation and foreign objects from entering the collection buckets.

3 Hooks. The hooks are attached to the spile and used to hang the bucket on.

Maple Sugaring at Home book. This book will provide you step-by-step instruction on how to tap your trees(pictures included). It also includes a section on how to identify your maple trees, how to collect and store your sap, and how to make maple syrup. You will also enjoy the section of frequently asked questions.

7/16" Drill Bit with 3/8" shank. You will use this to drill a tap hole into your Maple tree.

Cheesecloth. Use this to filter any solids like pieces of tree bark etc.
Take a look at this short video. It will help you see exactly how to use each item. For those of you that are like me, (I am not an abstract thinker) this video will really clarify the directions that are contained in the Maple Sugaring at Home book.
We dug right into our package and spent time becoming acquainted with each item and what it was used for. My girls are super excited to put it to good use when the time is right. I am hoping that soon we will be able to test it out and see about making our own "sweet nectar" lol.
We also were able to locate and mark the trees that we are hoping to tap when it is Maple sugaring season. My girls and I are counted down the days until we are able to get started. I apologize for not having any pictures of my trees, I had a crazy technical problem and now I don't have any pictures to show, but stay tuned.....we are hoping to share lots of pictures when it is Maple Sugaring season!!
This is a spectacular product! If you are interested in attempting to make your own maple syrup, this is the perfect product for you. Everything you need is included in the

Starter Kit with Aluminum Buckets

by

Tap My Trees

. Even if you have never thought about taking on a project like this, you will be pleasantly surprised at how complete of a product this is, and how complete the instructional materials are. This product is top notch! You will love it!
If you are like most people today, you like to stay connected through social media. Take some time and connect with Tap My Trees on their social media sites.
Facebook:
https://www.facebook.com/TapMyTrees/
Twitter:
https://twitter.com/tapmytrees
Instagram:
https://www.instagram.com/tapmytrees/
TAG your photo's:

@tapmytrees #tapmytrees #TOSReviewCrew #HSReviews

Pinterest:
https://www.pinterest.com/tapmytrees0518/
TAG your pins:

@tapmytrees0518 #tapmytrees #TOSReviewCrew #HSReviews

YouTube Channel:
https://www.youtube.com/channel/UCB6yQre-XsOl6bo6dO-K5Xw