This post may contain affiliate links.
Thank you for supporting my blog and homeschool!
See my full Disclosure statement for more information.
This year is the first full year that I have homeschooled my children "traditionally." For 2.5 years they did public school online from home and that seemed to work for a little bit, but then I noticed that we were running into the same problems we did at "brick and mortar" schools so we pulled them out. I was pretty scared at first and felt like my head was swimming. My daughters were in 6th grade and 9th grade at the time, and I was so worried that I was going to mess something up. I am so thankful for the opportunity to review the
Successful Homeschooling Made Easy Course
by
Successful Homeschooling Made Easy.
This online course will take you through the homeschooling process step by step and show you what to do at every turn. It has really helped me look at things in a more methodical manner. I don't know about you, but there were times I felt overwhelmed at the magnitude of choices, by the time commitment, etc. That is where this course comes in.
This course covers so many helpful things like:
How to work out your vision for your school and plan your goals.
How to make a schedule.
How to handle obstacles.
How to write lesson plans.
How to get your housework done while homeschooling.

How to keep records.

How to be efficient as you homeschool.

And much, much more!!
Stephanie Walmsley has done a great job putting together this 26 week course to help homeschooling families through the process while avoiding burnout! I am fairly new at the homeschooling process, but I believe this course would be helpful for any homeschooling veteran out there that needs some fresh ideas or eyes. The goal of Stephanie is stress free homeschooling, which I know is my goal as well. She lays out the steps methodically from start to finish and helps you apply it to your homeschool. She also shares stories from other homeschooling families that are easy to relate to. This Homeschool 101 course is top notch and a pertinent tool for any homeschool family.
About the product: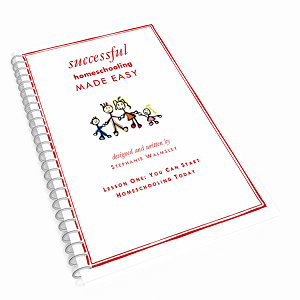 You will receive an email with a new lesson, in pdf format each week. Feel free to print out the lesson like I did. Then you can put it in a binder and refer back to it easily. I know some of you may be more tech savvy than I am, you techies can definitely save the lessons in a folder in your email and refer back with a click. :-)
There is homework with each lesson.
No sighs!!
That is what makes this course so wonderful! It doesn't just tell you about being successful, it helps you walk out the steps to successful homeschooling! For instance, the first lesson is about making a schedule that works for you and your family. This is so helpful because she walks you through it in such a way that you are able to avoid the pitfalls of "wishful thinking." The very first schedule I made when we first started homeschooling had to be scrapped by week 2 because of wishful thinking!! Some of you may know exactly what I'm talking about!! :-)
She also asks some questions with each lesson that help you dig into you and your plans for your homeschool. She helps you take a look at some practical things like:
Your homeschool goals, your outside commitments, and if you are taking care of yourself.
Some of these questions are easy to answer, and you will find (like I did) that some may be a little more difficult. That is wonderful, growth is always good!
My Bottom Line:
I loved this product. I found it inspirational and more helpful that I ever imagined!! No matter how long you've been homeschooling, I am confident that you will find helpful tips, and fresh ideas as you work through each lesson. This course helped me define a better structure for our homeschool and find joy in the journey. Stephanie recommended some great books throughout the course and I found those helpful and encouraging as well.