I have homeschooled my children for the past 5 years and one of the biggest challenges for me is creating worksheets. Sometimes you just need some worksheets to supplement your curriculum. That is why I am so happy to have the opportunity to review the Pro Plan from

HelpTeaching.com

.

. My daughter has been using some of the products for

high school lessons

included in the Pro Plan and is loving it!!

I have to admit that I was pleasantly surprised to see all that the Pro Plan has to offer for students in middle school and high school. Sometimes the options for students in the higher grades are limited, but not at

HelpTeaching.com

. They took time to put together wonderful options for you no matter what age/grade your child is in. If you have a child in kindergarten then this site is for you, and if you have a child that is a senior in high school this site is for you!



What is the Pro Plan:



You may be wondering, "What exactly is the Pro Plan?" Well, I am so glad you asked....
For a minimal annual fee you are able to:

* Use the test maker to create and customize tests and worksheets for your child! Wow! I love this. I created a test over a book that my daughter was reading.
* You aren't limited to creating short tests, you can have up to 100 questions in your custom tests or worksheets. That is beneficial! Sometimes 25 questions just doesn't cut it!
* You are able to save the creations that you've made as a PDF. That means that what you create is yours. You are able to create it, save it and keep it!
* You will have full use of the Test Room™ to administer online tests and lessons. Using this particular feature you will find that it supports auto-grading for multiple-choice and true/false questions, management of students, emailing invitations to students, and you can even schedule a test for a specific time.
*There is pre-made content that aligns with Common Core standards.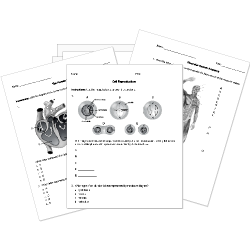 How we used it:
There is truly so much content to pick from that it feels like Christmas morning! We were able to supplement lessons in her Biology class as well as in her Algebra 2 class. These classes are hard to find extra items for.
I was also able to create a test for a book that she read and then was able to use that for credit in her Literature class. I know that she wasn't necessarily jumping for joy over extra work, but I loved the ability to create something quickly and easily to make sure that she understood what she was studying. In fact, just for fun I created a few word finds for both my girls and I know they loved those!!
I feel like I am just getting started! You are only limited by yourself when it comes to the Pro Plan. You can utilize it fully or just use bits and pieces, but either way it is worth it completely!
My Bottom Line:
I loved it! It has been so wonderful to have the option of creating tests or worksheets in such a quick and simple manner to drive a point home, or to make sure that they were understanding what they were doing. My girls loved the worksheets, even though they are not huge fans of extra work.
The ease of the website and the simplicity of building tests or worksheets is so beneficial and saves so much time. I love the Pro Plan and how it has benefited my homeschool!
Social Media:
If you are like me, you are on social media all the time. Take a moment and check out these social media links.
Facebook:
https://www.facebook.com/helpteaching
Google+:
https://plus.google.com/b/100894483454551317755/+Helpteaching/posts
Pinterest:
https://www.pinterest.com/helpteaching/
Twitter:
https://twitter.com/helpteaching
@helpteaching #HSReviews #printableworksheets #onlinelessons #readinglessons