PRESENTS. . .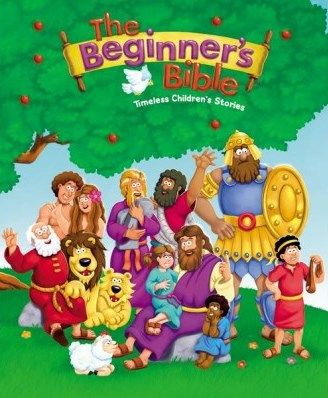 NOW WITH ALL NEW 3-D ARTWORK!
Where should I begin? I am so excited that I had the opportunity to review The Beginner's Bible by Zonderkidz. Although my own children are older than six (6), all three of my kids were raised reading from The Beginner's Bible. In fact the first book that my oldest daughter learned to read from was the Beginner's Bible! So having the opportunity to review it with the all new 3-D artwork was a special treat for me!
I have admitted often that raising children is one of the hardest things I have ever done. I remember spending time praying about having children, knowing that the desire of my heart was to raise them to love God with all their heart, soul, mind and strength. Some of you may agree with me that parenting is a difficult task, but thankfully Zonderkidz has done their best to help us all out by creating a fun, interactive and easy to read Bible story book!
The Beginner's Bible has been a favorite with children ages 6 and under since it was originally released in 1987. So let's think about this. . .for close to 30 years, The Beginner's Bible has been helping us as parents, grandparents, aunts, and uncles share the Truth of God's Word with our little ones! I for one truly appreciate it!
I remember the look on each of my girls' faces when they received their very own "first Bible" The Beginner's Bible. The easy-to-read text has always been one of the many benefits of this amazing book, but now there is bright, full-color, 3D illustrations on each and every page. I didn't think it was possible, but I think Zonderkidz has managed to make the 90 plus stories come to life even more than ever before! This is the perfect way to introduce young children the the stories and characters in the Bible in a way that will stay with them for years to come.
With my children grown, I took time to look through the updated version of The Beginner's Bible for myself. I also sat with my niece and read stories to her from it. I loved seeing her face light up when I pulled it out! Although it is usually hard for a 3 year old to sit still, she sure sits still to hear stories read to her from it!
I highly recommend The Beginner's Bible. It is good for every home library. I know that family devotion time with my girls wouldn't have been the same without this fantastic book, and I look forward to a time that I can gift it to my grandkids as well! (I am definitely not trying to rush anything!) So, if you don't have kids of your own and are thinking about a gift for a child age 6 and under, The Beginner's Bible by Zonderkidz is definitely the way to go! Pick one up for someone special in your life today!
You don't have to take my word for it. . . check The Beginner's Bible out on social media.
See the links below:
Facebook
Twitter
YouTube
Instagram
Pinterest
Take some time to read more reviews by the Homeschool Review Crew about The Beginner's Bible by Zonderkidz by clicking the image below!